To kick start this blog I would like to say a big thank you to
Inso
(Steven Marchant) for sculpting a tribute miniature in memory of my brother Gareth (aka Grekwood). Here's a photo taken from Inso's blog:
Click to zooOOMM
I will be casting him at some point and he will then be available on the website. Because he is a tribute to my brother, I am thinking of donating some of the profits to the CGD Society, that way it not only helps out Grekwood Miniatures, but it also helps out the charity.
Now I have been working on that Hospital again! I have now completed 4 wards. So here is a photo of them all lined up!
In the photo there is a green, grey, blue and pink ward. They can be stacked on top of each other, or laid flat. If laying flat then there should be a gap between each ward (not bunched together as shown) as there should be a courtyard between each ward with trees and stuff. It is designed to be two stories high (ground and 1st floor) as it is bases on Landough Hospital.
Now some sculpting progress: Here are 3 figures I started the other day, so they are all WIP. 2 males and one female in the middle.The sculpting on these is an improvement on the first batch I ever did. I am making things more defined and including all the detail I can such as a zip on the females clothes.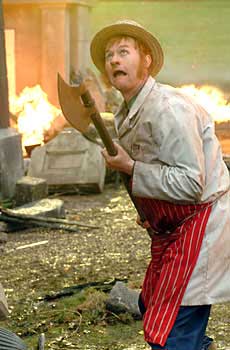 The butcher (above far right) has sideburns like the butcher from "the league of gentlemen" tv show (picture right). I'm not giving him an axe though... maybe a survivor for one of my later planned moulds (I'm looking at next year for that though).
The females are more "curvy"... she got booty... Again the sculpting (in person) resembles that of resin plastic figures, so I take this as a sign of better/smoother more defined sculpting. These figures are going to be more torn up that the other ones, so representing more walkers and stumblers rather than just walkers.
I'm working on the basis that it goes: Fresh zombie (runner) > walker > stumbler > Crawler > Corpse (just this time it remains that way!). The further right you go the more damaged they are. I'm thinking of bringing out a "specials" mould at some point. But more on that another time :P
Ok I think that's all for now. Oh housing news, we found a different place, loved it, and went for it. We're in the process of sorting out all the paperwork, but fingers crossed there will be no issues! It has a great sized 2nd bedroom, perfect for taking over as a sculpting/business room :)
Ok now that really is all for now! Comments as always are welcome! Cheers for reading :)